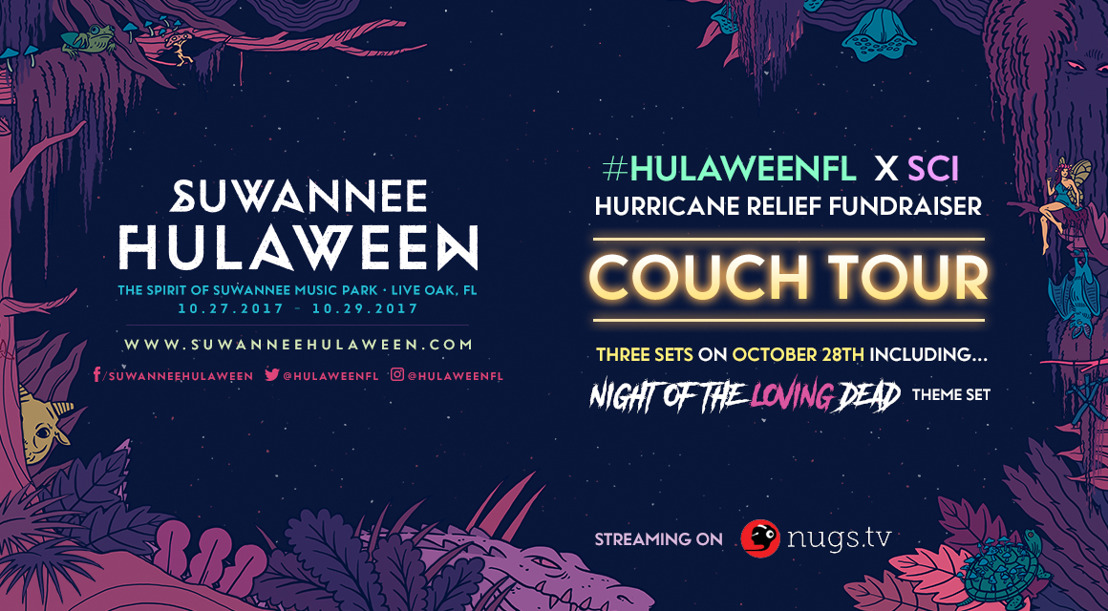 Suwannee Hulaween Announces Charitable Causes Around Sold Out 2017 Event
Friday, October 20, 2017 —
Suwannee Hulaween, Silver Wrapper, Purple Hat, and The String Cheese Incident Team Up To Produce Charitable Pay Per View of SCI Live from Hulaween via Nugs.TV
http://bit.ly/HLFL17_community
All Proceeds To Be Donated Towards Hurricane Disaster Relief Victims in Puerto Rico and Florida
Also Announcing Art That Feeds Food Drive Benefiting Love Inc + Conscious Alliance and Hulaween Pre-Party Hurricane Relief Fundraiser
Fore More Info Visit:
Less than a week before the fifth year anniversary of Suwannee Hulaween marks its first officially sold out edition, the team behind this iconic event has turned their attention and community towards those in need with the launch of a string of charitable causes and activations.
Hulaween, Silver Wrapper, Purple Hat, and The String Cheese Incident have aligned their resources to produce a charity-driven Pay Per View stream of SCI live from the festival. By donating to support hurricane victims in Puerto Rico and Florida, String Cheese fans can enjoy three sets of the scene-leading act from the sold out show streamed live to their couch on Saturday October 28th. The sets will include the band's much anticipated night closing foray into the festival's 'Night of the Loving Dead' theme with musical selections inspired by the feeling and principles of love.
Every dollar donated through the The String Cheese Incident live stream will be thoughtfully split between those in Hulaween's host state of Florida who were affected by Hurricane Irma plus a fund started by Silver Wrapper for Puerto Rico following the necessary post-hurricane cancellation of their nearly sold-out Island of Light destination festival in partnership with Pretty Lights.
The charitable energy will continue into Hulaween itself as the festival will team up with The Suwannee Music Foundation and Conscious Alliance to host their inaugural food drive in support of Love Inc Food Bank in Live Oak FL. The first 600 patrons to donate non-perishable, health oriented food items will receive a commemorative Suwannee Hulaween poster, created by talented artist Nic Bogdal.
To build additional financial support for rightfully of the moment causes and an equally important awareness amongst festival attendees, Hulaween will be hosting Pre-Party Hurricane Relief Fundraiser on Wednesday October 25th at SOSMP Music Hall of which all proceeds will directly benefit Love Inc of Live Oak, FL. The event will feature a run of live-acts fit to kick off the festival for those looking to arrive early and make a difference.
For five years this movement shaping event has offered its loyal followers a doorway into a visionary paradise, a channel into a reality defined by boundless surprises and exploration. Now, alongside their partners, Hulaween calls upon their community to use the values and ethos fostered at the event to make a positive impact on the world around them.
For More Information on Hulaween 2017, please visit:
For More Information and to Pre-Order Pay Per View Webcast of SCI Live from Hulaween Visit:
www.suwanneehulaween.com/community-outreach
To Donate to the Hurricane Irma Relief Fund Visit:
https://www.globalgiving.org/projects/hurricane-irma-relief-fund/
To Donate to Island of Light for Puerto Rico Visit:
https://www.gofundme.com/island-of-light-united-for-pr
To Stream Direct from Nugs.TV Visit:
Press Inquiries: mfrieser@infamouspr.com // destiny@brotherlyloveproductions.com
Suwannee Hulaween Full 2017 Lineup
The String Cheese Incident (Three Nights)
Bassnectar
Ween
GRiZ
Damian "Jr. Gong" Marley
Run The Jewels
Nick Murphy (Chet Faker)
RL Grime
Portugal. The Man
Nathaniel Rateliff & The Night Sweats
The Disco Biscuits
Claude VonStroke
Vince Staples
Greensky Bluegrass
Marian Hill
Kamasi Washington
Mike Gordon
Lotus
Lettuce
Beats Antique
Benevento / Russo Duo
FKJ
Moon Taxi
Stick Figure
Big Wild
Noname
The Polish Ambassador
David Shaw (of The Revivalists)
Keys N Krates
Destructo
Shiba San
Manic Focus
Here Come The Mummies
TOKiMONSTA
Future Rock
Spafford
Space Jesus
Tank and the Bangas
The New Mastersounds
TAUK
The Jerry Douglas Band
Goldfish
Crywolf
Dumpstaphunk
Poolside
The Nth Power "Wake up & Live Bob Marley Tribute"
Dirty Dozen Brass Band
The Russ Liquid Test
Big Something
Phantoms
Michal Menert
Dimond Saints
Son Little
Marco Benevento
Perpetual Groove
ProbCause
Jon Stickley Trio
Roosevelt Collier Trio
Magic City Hippies
Aqueous
Andy Frasco & The U.N
Frameworks
The Heavy Pets
Acoustic Syndicate
SoDown
Jonathan Scales Fourchestra
Yellowhammer
Stokeswood
Voodoo Visionary
Jaden Carson Band
Shak Nasti
Parker Urban Band
Scholars Word
The Galbraith Group
King Baby
Displace
Heather Gillis Band
Cadillac Jones
The Resolvers
Universal Green
Lemon City Trio
Earphorik
Official Pre-Party Full Lineup on 10.26.2017
2 Sets by Umphrey's McGee
2 Sets by Joe Russo's Almost Dead
Greensky Bluegrass
Liquid Stranger
The Devil Makes Three
Lettuce
EOTO & Friends
Spafford
Zach Deputy
Kyle Hollingsworth Band
Elohim
Protohype
Buku
The Nth Power
Southern Avenue
Luthi
SoDown
Evanoff
Great Peacock
Custard Pie
Beeb$
Ecology
The Getbye
Psychedelic Monks
Yamadeo